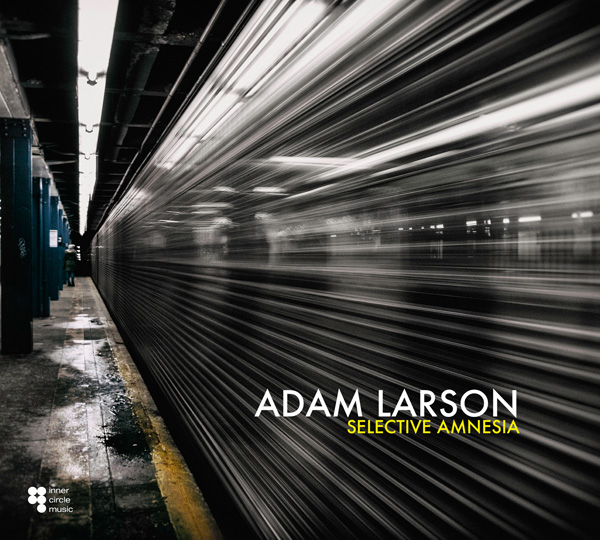 About Adam Larson
Originally from Normal, IL, twenty five year-old saxophonist-composer Adam Larson, endorsed artist for P. Mauriat saxophones, D'Addario Woodwinds, Lebayle and Bari mouthpieces, began playing saxophone at the age of 11. As a high school student, Larson was a member of virtually every national program dedicated to showcasing excellence in young jazz talent including The Grammy Band, Next Generation Jazz Orchestra, Betty Carter Jazz Ahead, YoungArts Jazz Fellows, Telluride Student All-Stars, Jazz Band of America and many others. Described by critic Howard Reich of The Chicago-Tribune as "a player for whom the word 'prodigious' was coined", by Peter Hum of the Ottawa Citizen as "a saxophonist who brings Donny McCaslin and Mark Turner to mind", and by Nate Chinen of The New York Times as "a self-assured young saxophonist", Larson has garnered numerous awards that distinguish him as one of the most promising artists of his generation. Upon completion of his Bachelors degree at The Manhattan School of Music in May of 2012, Larson was selected as a member of the inaugural Manhattan School of Music Jazz Institute to continue his studies as a Master's student, where he graduated with honors as the recipient of the William H. Borden Award for Outstanding performance in Jazz Performance in 2014.
Released in January of 2013, Larson's debut album "Simple Beauty" and Larson's follow up album (released in September of 2013), entitled "Overdue Ovation", have received high praise from critics such as Peter Hum (Ottawa Citizen), Andrea Canter (The Jazz Police), and Peter Bacon (The Jazz Breakfast-UK), to name a few. Larson keeps an active schedule with his quintet and as a sideman, having performed at several New York City venues including The Jazz Gallery, The Blue Note, The Village Vanguard, Smalls, Cornelia St. Cafe, The Kitano, Dizzy's Club-Coca Cola, and several others. Larson has also headlined at the historic Jazz Showcase in Chicago, IL and as a sideman, Adam has performed with numerous groups as a sideman including Jamie Cullum, Ted Rosethal, Ari Hoenig Nonet, The Otis Brown III Band, Michael Rodriguez Quintet, Nils Weinhold Quintet, Helen Sung Quartet and Sharik Hasan Quartet. Larson's unique sound has been an integral part of several recordings, including guitarist Nils Weinhold's Shapes, drummer Bastian Weinhold's River Styx and Cityscape, Till Bennewitz' New York Sessions and trombonist Marcus Lewis' Facing East. Larson's third record as a leader featuring guitarist Matthew Stevens, pianist Fabian Almazan, bassist Matt Penman and drummer Jimmy Macbride, is slated for official release on the Inner Circle Music Label in December of 2015.
Adam has been a part of several tours that have allowed him to see more of the world than he once thought possible. Larson's quartet was recently selected as one of ten ensembles to tour on behalf of the U.S. State Department's "American Music Abroad" program and toured Africa for 35 days in April 2015, visiting The Democratic Republic of Congo, Senegal, Benin and Ghana. Larson has toured India, Taiwan, Holland, and Germany as well much of the United States.
Beyond maintaining an active touring and recording schedule, Larson continues to be a sought after clinician and master class presenter at several high schools and Universities across the Midwest and beyond, including appearances at Roosevelt College, University of Illinois, Northern Illinois University, University of Wisconsin Eau-Claire, Illinois Wesleyan University, Hutchinson Community College, University of North Texas and most recently as a guest lecturer at The Manhattan School of Music. Adam also does a sizeable amount of commissioned ensemble writing for school jazz ensembles, having written twenty-two original works to date. Larson is currently a Teaching Artist for Jazz at Lincoln Center's Jazz For Young People, The New York Pops Ed education programs, and has a diverse private lesson studio of Skype students from the U.S. and abroad. Larson currently resides in Manhattan with his beautiful wife, Tierney.